Nazareth Plant Modifications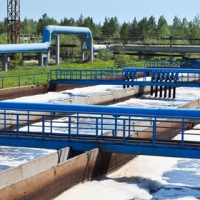 This project consisted of providing electrical engineering services for a plant upgrade at the Nazareth site including new 480V—1600A electrical service, the construction of 2 additional ICEAS SBR basins, the replacement of the existing plant blowers, a new generator, and a consolidation of the existing plant controls with a new control panel and MCC.
The existing basin decanter VFD's, headworks equipment, system alarm and control points were integrated into the new control panel. The existing emergency generator alarm points and status were also integrated into the new panel.
The new control system includes a system monitoring package that resides on a personal computer SCADA, located in the site administration building.